Small businesses are the beating heart and soul of communities across the UK. Not only do they contribute to the local economy, but they also support local communities.
The tragedy of the COVID-19 pandemic has challenged businesses more than ever. It's had an enormous impact both financially and mentally amongst small business owners. A recent FSB study reported that 250,000 companies are at risk of collapse in the UK.
These small businesses, from coffee shops to plumbers, need our support more than ever. So, take a look below at ways you can help support your local (or friends) business for free!
10 ways to support small businesses for free
1. Follow them on social media
It's easy and doesn't cost you a thing to follow a small business on social media. Many companies are harnessing the power of their social media channels because of its extensive reach. When you follow or like the page of a small business, it not only helps them to connect with you better, but it also allows them to reach a wider audience. Whether it's on Facebook, Instagram or Twitter, Pinterest clicking that follow button really can give them a much-needed boost.
2. Like their posts
By liking their posts, it allows them to see which content works best. It also helps them reach the newsfeed of people who may not like or follow the page, so it's a great way to help them gain new followers. Plus, when you like their posts, their content is more likely to pop up in your own newsfeed, meaning you keep up to date with any offers, deals or competitions they may post about.
3. Share their posts
By sharing their posts, you become an advocate for their company, and when other people see that you've shared something, it makes the business seem more reputable and legitimate. One quick share really can create new business for a small company, all without spending a penny!
4. Comment on their posts
It doesn't even have to be anything long-winded; just an emoji will sometimes do! When you comment, it allows the algorithm to help show the post in other people's newsfeeds, which means a small business then has a chance to showcase its product or service to many more people. It helps grow their network and get the word out about who they are and what they do, all because you commented. Feels good, doesn't it?
5. Tag friends who would like them
By tagging friends in content created by a small business, you're essentially creating a digital form of word of mouth, which is worth its weight in gold to a small business. Letting your friends know this business exists not only helps your friends out who may be interested in whatever products or services they're offering, but it helps the small business get the message out to more people. And all for free!
Share the graphic below on your social media accounts to help support small businesses for free!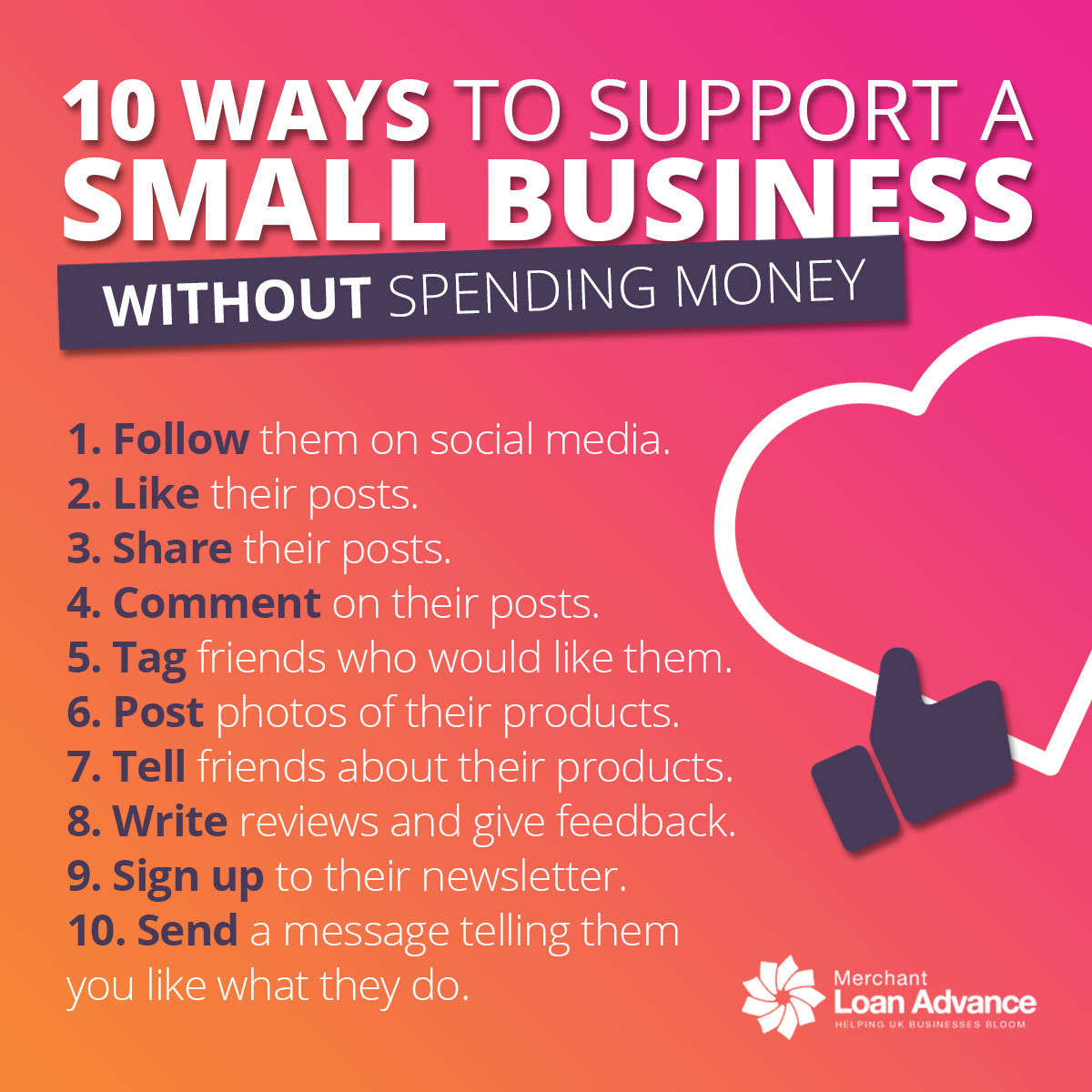 6. Post photos of their products
If you've purchased a product from a small business and are genuinely impressed, help them out by photographing it in use and tagging the company. When people see real people using a product, it creates a sense of trust and helps other buyers when deciding if they want to spend their money with that business.
7. Tell friends about their products
Even if it's something that's not relevant to you, you'll have a friend who may be interested. A verbal recommendation between friends is invaluable to a small business.
8. Write reviews and give feedback
By writing a review, you're allowing possible customers to get a true picture before they purchase. According to recent review statistics, 37% of shoppers rely on product reviews from review sites to make their buying decision. A whopping 87% of consumers place as much trust in a product review as they would a recommendation from a friend.
So find the small business you want to support on sites like TripAdvisor, reviews.co.uk or google place reviews and rate them. Lots of small businesses also welcome constructive feedback because they want to improve the service for all customers, so if you find something not up to scratch, let them know (maybe away from the review site, so they have a chance to improve!)
9. Sign up to their newsletter
If you're not on social media but still want to support a small business, sign up to their newsletter. This is where businesses will usually let loyal customers in on new deals first. It's a more personal approach that encompasses all that's going on in their business at that time. If you're feeling super generous, forward the email to friends or family who may be interested too!
10. Send a message telling them you like what they do
Small businesses love hearing from customers. Just a small note, comment, message or email can really make the day of a small business owner. You aren't going to get a faceless reply or lacklustre response as you would from a big company. You're going to make another human being get the warm and fuzzies and help them realise that's why they get up each morning and do what they do.
Our final thoughts
Small businesses tend to have a tiny marketing budget, and most don't even have one at all! So by helping spread the word, you're allowing them to carry on their craft, keep it local and help bring more money into your local economy.
In a post-Covid19 world, it is more important than ever before to support small businesses in any way we can. By following these simple ways to support a small business for free (without spending money), you can still make a real difference.
So get liking, get sharing and show small businesses that you're rooting for them.