There are so many opportunities to create awareness for your restaurant business, whether it's in the form of a campaign using social media marketing, local press, marketing to your customer database and so on. But what about getting involved with local food initiatives? Take Newcastle's NE1 Restaurant Week, with over 100 restaurants taking part they all offer a great opportunity to welcome new customers.
The initiative for Restaurant Week?
Diners can take the opportunity to eat at some of the finest restaurants in town from as little as £10 – £15 per person. This creates a new opportunity for restaurant owners to tap into a wider target audience and generate social awareness of their brand in doing so. If you take a look at NE1 Restaurant Week's website you will see many of Newcastle's restaurants advertised on the page.
The idea for NE1 Newcastle Restaurant Week was born in New York where a couple of times a year restaurants are able to offer fixed priced menus at the city's best venues. The idea was picked up by the Newcastle initiative which includes some of the original 13 members from the inception in 2011. These include Terry Laybourne's 21 Hospitality Group, Blackfriars and Silk Room.
#NE1RestaurantWeek is back! Dine at some of the city's finest restaurants for only £10 or £15 per person. 🍔🍝🍸https://t.co/AxnXWB2M2X

— Go North East (@gonortheast) August 7, 2017
Since the initiative started in 2011 Newcastle's restaurant scene has changed dramatically attracting over 100 restaurants who are now participating in the event.
Newcastle has more restaurants per square mile than any other city in the North so is the ideal venue to hold such an event. But this shouldn't stop any restaurant business looking at a similar idea even if you are in a small town with only five restaurants.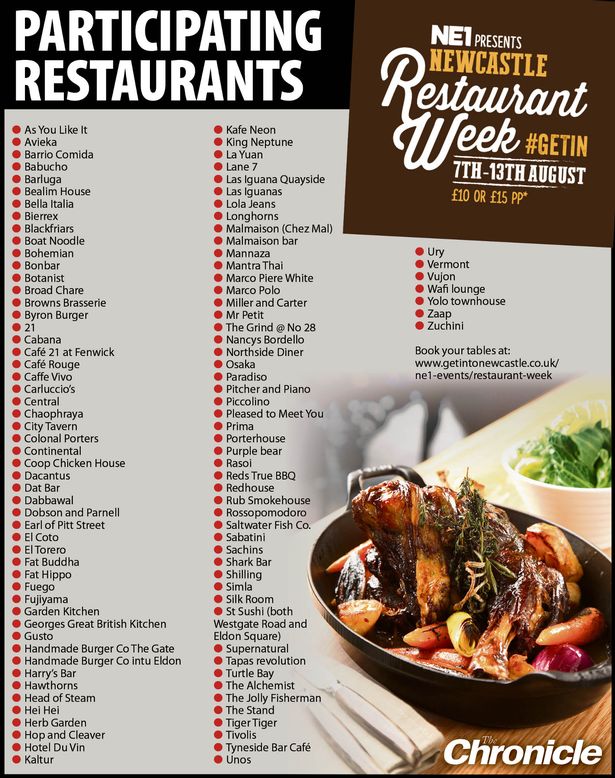 "Think about coming together to promote a 'restaurant week' of your own. With more and more people opting for staycations here in the UK there has never been a better time for such promotion. It also benefits hotels and bed and breakfasts in the area because people will stay and enjoy more than one opportunity to dine out."
"We are in the restaurant funding business and are helping more and more restaurants grow and prosper with our merchant cash advance product. It is helping them free up cash flow for marketing incentives and development. Restaurant Week is a classic example of how the right marketing initiative can work for all, bringing new people into the area, generating awareness, giving customers the chance to try a new venue, giving local hoteliers the opportunity to fill their rooms. I'd suggest that all towns and cities – even villages in some cases should look at something similar" Rich W, Sorodo Ltd