So, your beauty salon is almost off the ground, and it's time for a memorable, snappy, creative name that will set you apart from your competition. Whether you specialise in hair, nails, makeup or lashes, we're here with some great tips, ideas and inspiration for beauty salon names.
With an estimated 48,425 hair and beauty businesses in the UK today, competition in the beauty industry is hotting up, so it's crucial to get your branding right to stand out.
A great business deserves a great name. A great name is also something you have to live with and love every time you wake up in the morning, look at your signage, view your website and hand out business cards.
Your beauty salon name is one of the most influential parts of your business marketing, so it's crucial to get it right. It has to be personal to you, the business owner. It will drive you on every time you see it, and it will make you proud each time a customer mentions it.
8 Tips for Choosing the Best Beauty Salon Name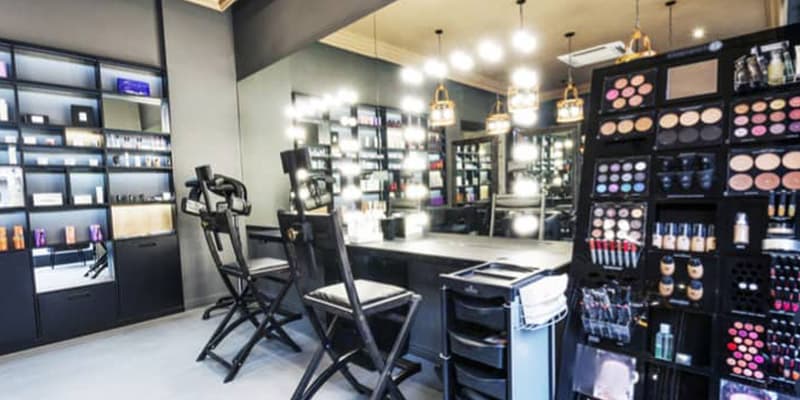 1 Market research
Firstly, it's a good idea to check out your local competition via a little bit of market research. Search on Google for the term 'beauty salon' and see who comes up in the local search listings. Look at their website, social media channels via Twitter and Facebook and see what their customers are saying on Yell or other client feedback platforms.
Are they pushing their brand every day? The secret, once you have your beauty salon name, is to maximise exposure through constant marketing efforts. It doesn't have to cost you money; it just needs some of your time to use social networks to drive awareness locally to your business.
2 Look at competitor branding
Have a walk around your area and look at your competitions signage and branding. Does it portray who and what they are? Is it creative and memorable? Does it have an impact? Make notes or, better still, take some photos for reference.
3 Write down some words
Brainstorming is a great way to get the ball rolling for beauty salon name ideas. Don't be afraid to put everything down on paper – even if it sounds incredibly silly! Sometimes a silly idea can spark the opposite word or phrase that can be perfect for you. This is a technique used by many creative agencies around the world. The key here is to keep writing and jotting everything down. Kick name ideas around with friends or relations until you have filled all the white space on your paper or whiteboard.
If you are struggling, there are some online business name generators you can use that can help spark ideas.
4 Choose the words that you like
Simply circle the words you like. Once you have a bunch of words or names circled, play around with those words. Are there other ways to say them? Can you change letters within them to give them a different spelling but sounding the same? Could two words work together? Is there a beauty salon name that starts to stand out?
5 Elimination
Based on the beauty salon name ideas you have circled, you can start another elimination phase to remove the weak words – those names that don't quite do it for you. Remember, you have to live with this name every day, so you will start to naturally lean towards the stronger contenders.
6 Make sure your name is unique
Check online to see if there are other similar sounding beauty salon names. This is quite easy; you can google it, then type it into a domain checker such as 123-reg.co.uk to see if the '.co.uk' is available.
You may also like to check if the trademark is taken and if other limited businesses are trading with it on companies' houses. You want to avoid any future conflict early on, so it's important to check that you don't run into any legal disputes after you have launched.
7 Register website domain and social accounts
Once you are happy with the name, go ahead and register the website domain. Also think about registering Facebook, Instagram, Pinterest and Twitter pages, and any other social media channels such as YouTube so that your business is ready.
8 Start designing your brand identity!
Create a fantastic brand identity for your beauty salon name. You may like to employ a creative agency for this if you can afford it. If you can't afford it, you could try your local college or university and offer a prize to their graphic design department. This helps students produce commercial work for their portfolio, and in some cases, works for both parties.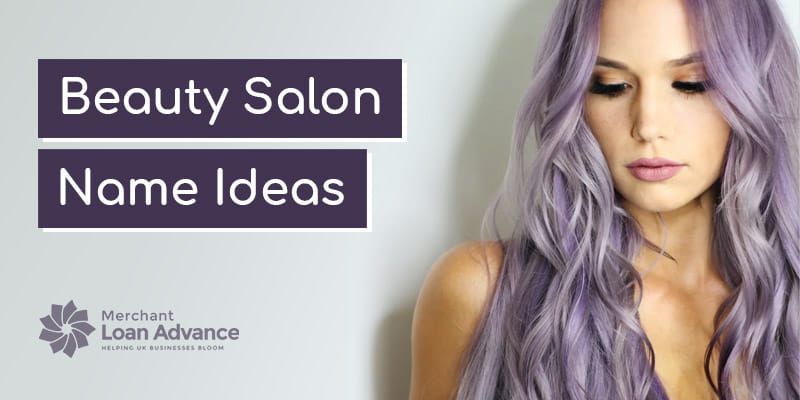 Beauty salon name ideas 2024
Here is a list of some catchy beauty salon name ideas and inspiration to get you started. Remember, you can get as creative as you want!
The Beauty Studio
Glow
Beauty by [Your Name]
The Beauty Lounge
Salon One
Mirrors Salon
Unique Beauty
Style Salon
Beautify
Just For You
Beauty Hut
Doll Beauty
VAIN
Revive
Beautique
Beauty House
Glam Up
Elegance
The Look
Pamper and Shine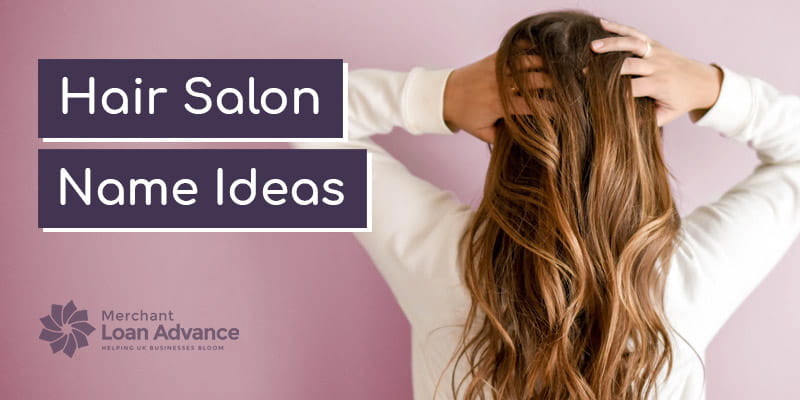 Hair salon name ideas
If your business primarily focuses on hairdressing, then the name can reflect this. Whether you are home-based, mobile or have premises, we have listed some of our favourite hair salon name ideas:
Cut Above The Rest
Crazy Kutz
Hair Repair
New Wave Hair
House of Hair
Cutting Edge
Hair Studio
Unique Hair
Mirror, Mirror
Wild
Hair by [Your Name]
Hair Café
Supercuts
Bleach
Curlz
The Hair Colour Specialist
Roots
Luxe Beauty
Blown Away
Cuts & Crafts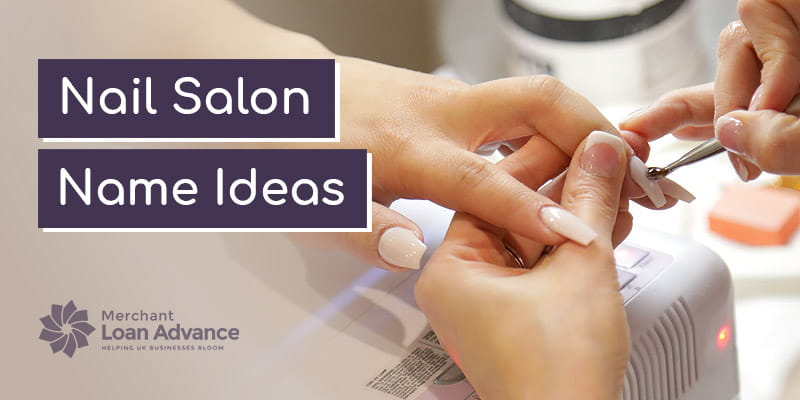 Nail salon name ideas
Do you specialise in nails offering pampering manicures or pedicures? Then here are some of our favourite nail salon names:
Get Nailed!
Model Nails
Nail Studio
Fancy Fingers
The Filing Cabinet
The Nail Lounge
Simply Nails
Nailbox
Nails For You
Totally Polished
Nailtastic
Just Nails
Nails Boutique
Nailology
[Your Name] Manicures
The Nail Artist
Just The Tips
Majestic Nails
Polished Lounge
Happy Hands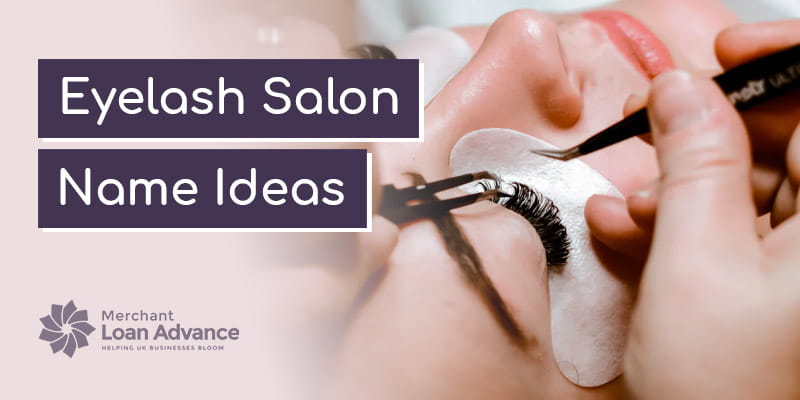 Lash business name ideas
If you're wanting to start your own lash business, here is a list of great eyelash salon name ideas to help get you started:
Eyelicious
Lash Boutique
Lush Lashes
Sxy Eyes
Lashes by [Your Name]
Lash Studio
[Your Location] Lashes
The lash House
Lashluscious
Blink
The Lash Lounge
Eye Love
Lash Bar
The Brow Job
Pretty Green Eyes
It's a lash Thing!
The Lash Queen
Glamour Lashes
Lashberry
Luxe Lashes
Before you go...
Need a beauty salon business plan?
Writing a business plan and don't know how to get started? Our free beauty salon business plan guide offers handy tips, templates, and advice to help you create the perfect business plan.
Beauty salon funding
For beauty salons who are looking to invest in their business in their early stages, we can help with a type of salon business loan that works well for those who transact via card sales with their customers. It is called a merchant cash advance and is widely used by many beauty salon businesses in the UK as an alternative form of finance to a bank loan.