With more and more people opting card instead of cash for their transactions, it's no surprise that the choice of online payment gateway has exploded. With more options, it means you can get a great deal and find one that suits the needs of you and your business. Read on to find out everything you need to know about finding the best online payment gateway for your small business if you are based in the UK.
What is an online payment gateway?
An online payment gateway is a merchant service that is supplied by an e-commerce application service provider who enables direct debit and credit card payments to be processed for both online businesses and traditional brick and mortar premises.
How does a payment gateway work?
An online payment gateway can help small businesses with processing card payments straight from your online or physical store in real-time. Once the card details are entered, the payment gateway gets to work by capturing the transaction, encrypting the information, routing it to the processor and finally returning back to the terminal with approval or declined notification. This all happens behind the scenes, within a matter of seconds, helping your business run as smoothly as possible.
Why would I need an online payment gateway?
If you take payments online or via credit or debit card, payment gateway services are required for both of these processes. Or maybe you travel with your business and need to take payment on the road; a payment gateway service is perfect for this. Mostly, it's a vital go-between for you and your customer. It's also a great way to help lessen credit card fraud, and by using a payment gateway, you've got the added protection of having every transaction checked and ok'd before releasing the products or service for sale.
Best online payment gateway for small business UK – Our review for 2021
So, with so many providers on the market, which one do you choose? Who has the best reviews? Lowest transaction rates? Or minimal set-up fees? We've done the hard work for you and compiled a handy little list to make your decision even easier.
1 Worldpay Online
You might have heard of Worldpay before as it handles 40% of all card transactions in the UK, making it the largest payment processing company nationally. This means they have a lot to offer and are likely to have a solution to your business needs.
Best for: Businesses who like the security of a big brand.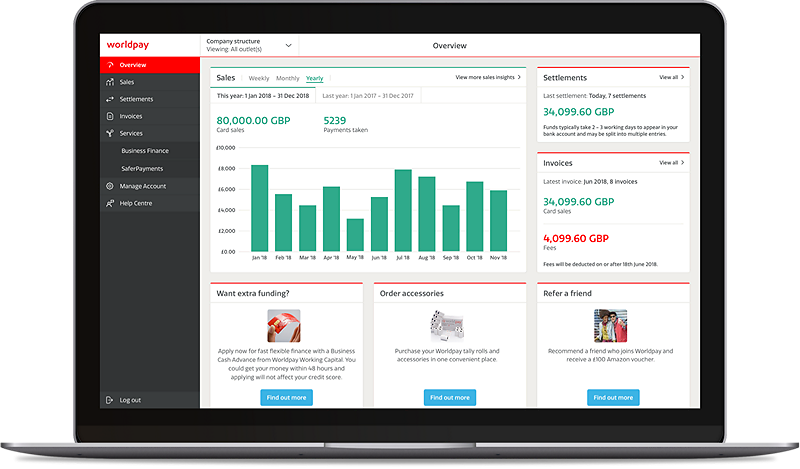 What they offer
Online Payment Gateway: Allows you to take payments in over 120 currencies and accept all major credit and debit cards as well as PayPal.
An Online Merchant Account: When a customer makes a payment, the money is kept in this account until it is settled into your business bank account, where you'll have direct access to it.
Pay By Link: A secure online payment system that allows you to take payments without having a website.
Worldpay Online Fees
| | |
| --- | --- |
| Gateway Standard: | From £19 per month with 350 transactions included and no set-up fee |
| Gateway Advanced: | From £19 per month with 850 transactions included and no set-up fee |
| Gateway Enterprise: | Bespoke pricing - Lowest transaction fee based on volumes with bespoke set-up available |
Worldpay Online Pros
Flexible pricing plans meaning you can choose one which suits the needs of your business.
Accepts all major debit and credit cards as well as PayPal is up to 120 currencies, so your customers will have a more significant range of payment options.
Fraud screening with every transaction helping you with secure payments to protect you and your customers.
You can set up recurring and subscriptions based payment plans for your customers, ensuring repeat custom.
Worldpay Online Cons
You have to request a quote to find out how much your particular business would be paying for transaction fees.
Your password has to be changed every two weeks for security. Obviously, this needs to be done, but it can be annoying.
The user dashboard interface is crowded and can take some time to get used to.
Is Worldpay Online for me?
If you love the lack of joining fee and need a flexible offering for your business, then WorldPay could work well for you. The security of its prolific reputation, advanced fraud protection, and 24/7 customer service will ensure that your business is in safe hands. However, this isn't an end to end e-commerce solution, so you'll have to factor in partnering up with a third-party e-commerce platform like Big Commerce or SquareSpace to get your business up and running online.
2 Shopify
Currently, the top choice of e-commerce platform in the UK, Shopify has everything you need to get your online shop up and running.
Best for: Businesses who like it all in one place.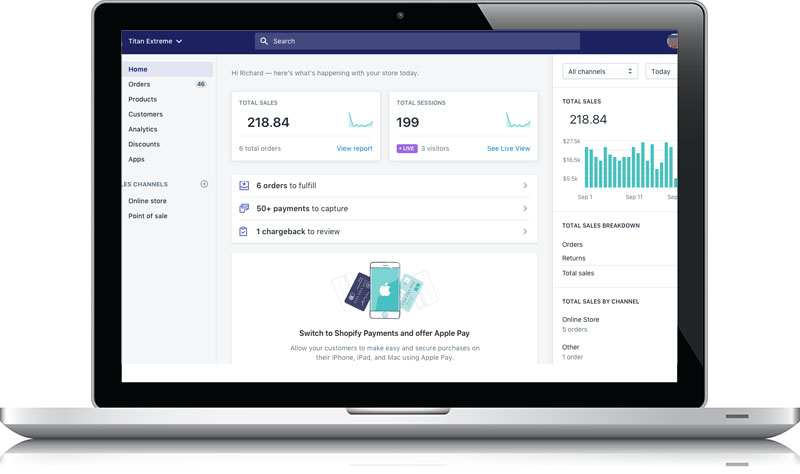 What they offer
Shopify offers everything from your web hosting to payment processing. Even seamlessly integrating with other sales channels you may have, such as Amazon and eBay. They also offer a 3 day trial completely free (with no debit or credit card required), plus a sophisticated range of Point Of Sale hardware to allow you to take payments too physically. Their popularity seems to stem from the ease of set up and how quickly you could be selling but remember, this comes with a price.
Shopify Fees
Monthly Fees:
Basic Package: £19 per month
Shopify Package: £49 per month
Advanced Package: £259 per month
Online Credit Card Rates:
Basic Package: 2% + 25p
Shopify Package: 1.7% + 25p
Advanced Package: 1.5% + 25p
External Payment Gateway Fee (if not using Shopify Payments):
Basic Package: 2.0%
Shopify Package: 1.0%
Advanced Package: 0.5%
Shopify Pros
Fairly easy set-up structure.
Your free 3 day trial without submitting credit card information.
Abandoned checkout recovery is handy to secure sales.
Has plenty of shop themes to choose from.
Shopify Cons
Professional reporting functionality is only provided when you opt for the more expensive plans.
Additional transaction fees for using an alternative gateway payment instead of Shopify payments.
The cheapest plan (Basic) doesn't feature Ecommerce automations.
Is Shopify for me?
If you're the kind of business that wants to take the hassle out of selling online, then Shopify could be the one for you. Its complete online payment system will get you up and running and receiving online payments with ease.
3 PayPal Online
You're more than likely to have used or at least heard of PayPal, even if you don't have a business. They're one of the most significant online payments services and currently claim that over 20 million UK shoppers use PayPal each year, with 7 million businesses worldwide using their platform to accept payments.
Best for: Businesses who like quick transfers.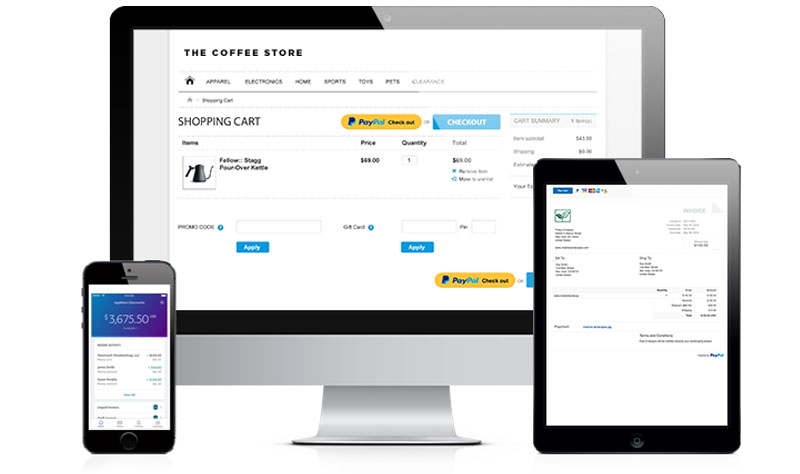 What they offer
PayPal allows you to accept direct payment from customers PayPal accounts, this means less messing about, and you can get instant access to your money. They also offer PayPal Payments Pro – software that allows you to integrate with Payflow Gateway, helping you to create a completely customisable online payment solution.
PayPal Online Fees
| | |
| --- | --- |
| Monthly Fees: | Free (Web Payments Standard or Express Checkout) or £20 per month (Web Payments Pro) |
| Transaction Fees: | From 1% per transaction (sales volume of up to £15,000 per month) up to 2.7% per transaction (sales volume under £1,500 per month). If you're a larger business, they also offer bespoke pricing options to suit your needs. |
PayPal Pros
Straightforward set up that can be done quickly.
It's reliable, and customers are usually already familiar with it.
Has a mobile optimised site and robust fraud protection.
PayPal accepts International cards.
If you opt for PayPal Payments Pro, customers won't even need a PayPal account to proceed with payment.
PayPal Cons
Merchants with low sales figures can pay very high fees.
The free version can look a little basic and unprofessional.
Is PayPal for me?
If you're a small business and want the security of a company that knows what they're doing, then PayPal could work for you. Its system is super flexible to suit the needs of small, medium and large businesses, so it's more than likely that they'll have a payment solution for you. Plus, if you regularly take payments from overseas, PayPal allows you to accept 26 currencies from over 200 markets, so the scope to expand is huge.
4 Stripe
The go-to for companies who want to create their customised payment system, Stripe delivers on all fronts. This includes your payment gateway plus your merchant account all in one.
Best for: Businesses who need a full-service payment provider.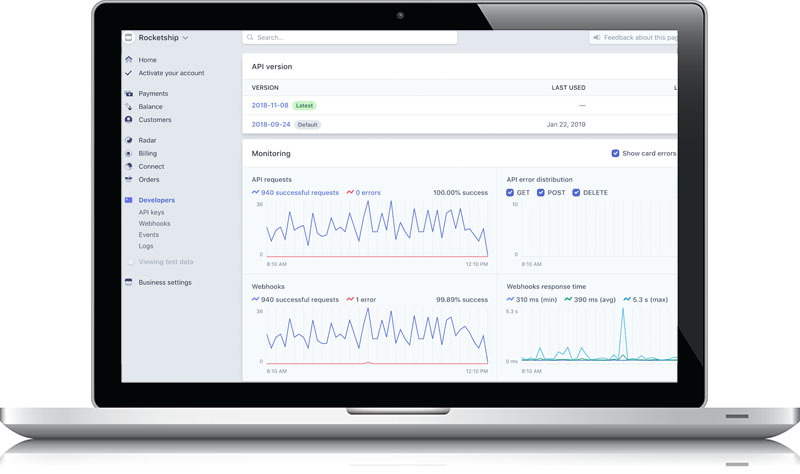 What they offer
Their extra speedy service means customers with digital wallets (google pay and apple pay) can glide through their transactions with ease. They also offer helpful features like subscription services, recurring billing, direct debit services, and one-click checkouts.
Stripe Fees
Setup Fees:
None
Monthly Fees:
No monthly or hidden fees
Transaction Fees:
1.4% + 20p for UK cards (+1.1% for European Economic Area)
2.9% + 20p for international cards
Stripe Pros
Clear and flexible pricing with no hidden fees.
Real-time fee data available and live sales reporting.
Fees for EU cards are competitive.
Stripe Cons
You will still need to provide your website and shopping cart software to start selling online.
Relatively high fees for customers using a non-EU card.
The 7-day settlement delay can be frustrating.
Is Stripe for me?
If you need everything in one place, Stripe could be the one for you. It's already trusted by big brands such as ASOS, Made.com, and Deliveroo, so you know you'll be in good hands. Its clear pricing structure is also helpful when deciding who to choose. However, Stripe was designed for business owners who know their way around a technical system, so if you're a complete beginner, maybe opt for one of the more user-friendly payment gateways.
5 Amazon Pay
Another payment gateway with a familiar name, Amazon Pay already has success with over 310 million users, so it seems like they know what they're doing. With its recognisable checkout process, it allows the business owner to be in control of their online payments. Plus, by recycling the details of you and your customers, it cuts downtime spent on admin massively. Your customers don't have to repeatedly punch in more information, meaning they sail through the checkout process and ensures you have a better chance of repeat custom.
Best for: Businesses who want a simple system.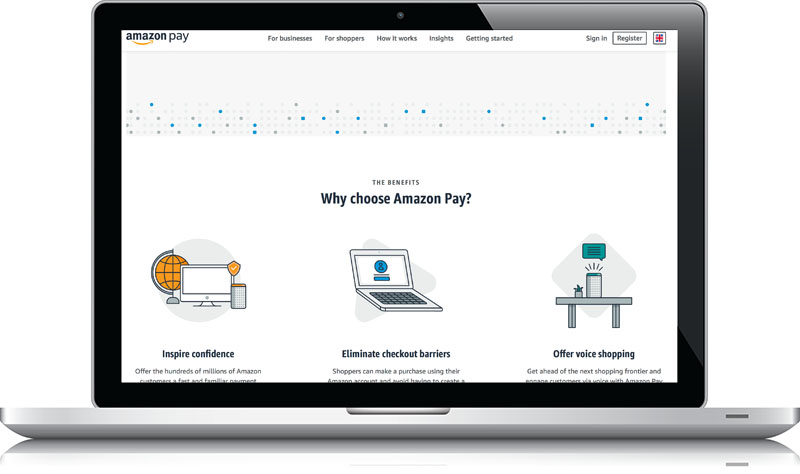 What they offer
They provide businesses with a considerable amount of e-commerce tools to get your store looking just right and help customers glide through the purchase and checkout process, even enabling you to complete the transaction on your site. If a recurring payment option is what you're looking for, they also offer this to help you grow a loyal customer base.
Amazon Fees
Processing Fee + Authorisation Fee:
Less than £50,000 monthly payment volume: 2.7% + 30p
More than £50,000 monthly payment volume: Bespoke quote
Cross Border Fee (outside UK):
0.4% – 1.5%
Chargeback Dispute Fee:
£14 (excluding VAT)
Amazon Pay Pros
Its fierce fraud detection technology helps protect you from any fraudulent activity, bad debt and misuse of cards, while Amazon's free A to Z guarantee protects your customers, everybody wins.
Very user-friendly and effortless to customise, meaning you can make it work for you and the needs of your business.
The added security of your customers having a trusted login means you can verify their accounts quickly and easily.
Amazon Pay Cons
If you're a low volume merchant, the fees can be high.
The 3-5 business day settlement time can be frustrating if you need a quick turnover of cash.
Is Amazon Pay for me?
Amazon is already trusted by a large number of your customers, so if you want them to feel safe in their purchasing, this may be a good option. It's super-efficient which means customers are more likely to choose to shop with you again. So, if you're looking for ease and efficiency, Amazon Pay could work well for your business.
6 Klarna
A relatively new type of payment gateway for the UK, Klarna is part of a growing number of Swedish Fintech companies who are making online payments a breeze for customers.
Best for: Businesses who want to offer their customers flexible choices when it comes to paying.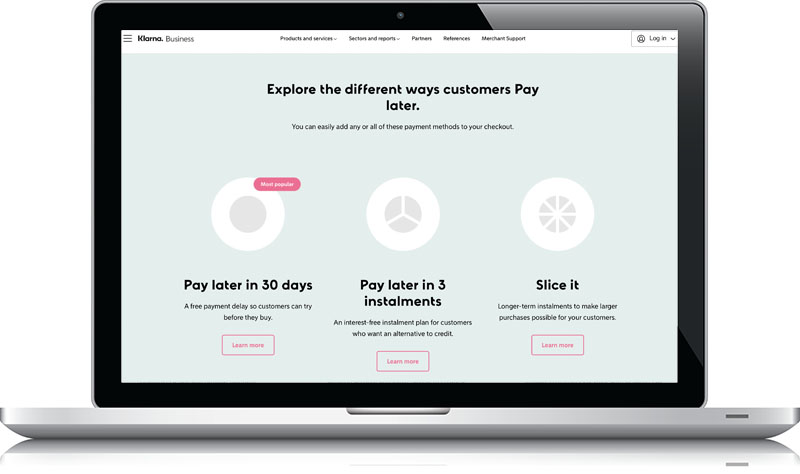 What they offer
Klarna is one of the first payment gateways to provide 'Buy now pay later' on online transactions, even introducing flexible consumer finance on products for customers who would like to pay over time.
Klarna Fees
| | |
| --- | --- |
| Setup Fees | None |
| Monthly Fees | None |
| 'Startup' transaction fee: | 2.49% |
| 'Growing' transaction fee: | 2.19% |
| 'Established' transaction fee: | 1.99% |
Klarna Pros
With its deferred payments system, you can turn a big purchase into an affordable subscription for your customer, meaning you secure the sale, and they become a happy purchaser.
It means customers do not have to wait till payday to purchase. You can expect healthy growth over the month instead of that mid-month slump.
Klarna Cons
With the Buy now pay later option, you can expect a lot more returns from impulse buyers who have changed their minds. You'll have to factor in this cost when deciding if this is the type of payment gateway for you.
Their website does not have a clear pricing structure which can be frustrating for businesses trying to figure out if this will be a cost-effective option for them.
If a customer chooses the finance option, they could begin to resent your company when their payment notice comes through each month, essentially a constant reminder of how much money they owe.
Is Klarna for me?
If you're the type of business that can risk multiple returns against the ease of buying for your customer, then this may be a good option for you. If you're looking to offer flexible payment options and take the fuss out of finance, Klarna could help with creating a loyal customer base who feel secure in paying for their items with you.
7 Payoneer
With 4 million users globally and handling payments in 150+ currencies, Payoneer is pretty knowledgeable when it comes to payment gateway services.
Best for: Businesses who do a lot of freelance or affiliate work.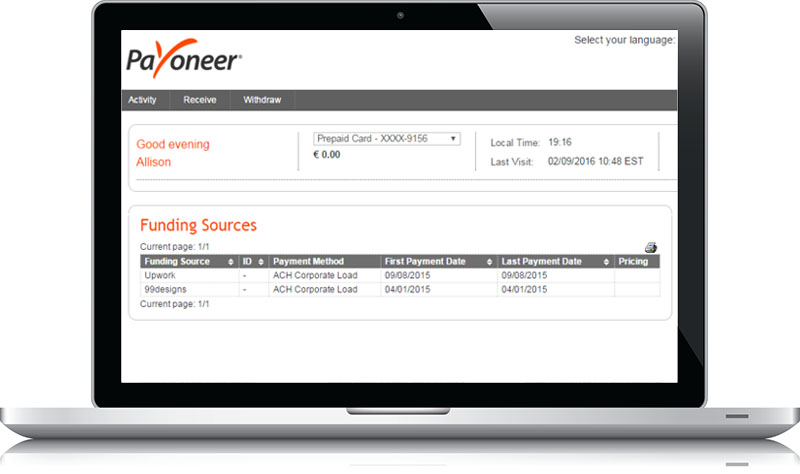 What they offer
They allow you to receive payments from companies worldwide, meaning you can grow your business without hassle. Their customer billing service is also pretty handy, allowing you to send a payment request, and your customer can pay directly online via a bank account, direct debit agreement or card.
Payoneer Fees
| | |
| --- | --- |
| Sign-up: | Free |
| Receiving payments from another Payoneer customer or via receiving account: | Free (GBP, USD, EUR, & JPY) |
| Billing Service: | 3% (credit cards all currencies) or 1% ACH bank debit |
| Withdraw money to a bank account in a different currency: | Up to 2% |
| Fee for withdrawing to a UK sterling bank account: | £1.50 |
Payoneer Pros
Their marketplace payments mean you can get paid faster, sometimes within hours instead of days.
Great for freelance workers who want to avoid hefty bank charges when spending and receiving money.
Super secure and low transaction fees compared to its competitors.
Payoneer Cons
Not very suitable for businesses wanting to run an online store, its design is catered more to freelancers and affiliates.
Many reviews suggest that customer and technical support isn't up to scratch.
Withdrawing money in your local currency can come with a steep exchange rate.
Is Payoneer for me?
If you're a freelancer sending invoices to places all over the globe, this could be an excellent option for you. With its low transaction fees and the ability to accept almost every kind of currency, this could be a cost-effective solution to receiving money for your goods and services.
8 Opayo by Elavon (formerly Sage Pay)
It's come a long way in the last 15 years, but Opayo (formerly Sage Pay) is now considered one of the most highly rated payment gateways throughout the world.
Best for: Businesses who need an all-rounder.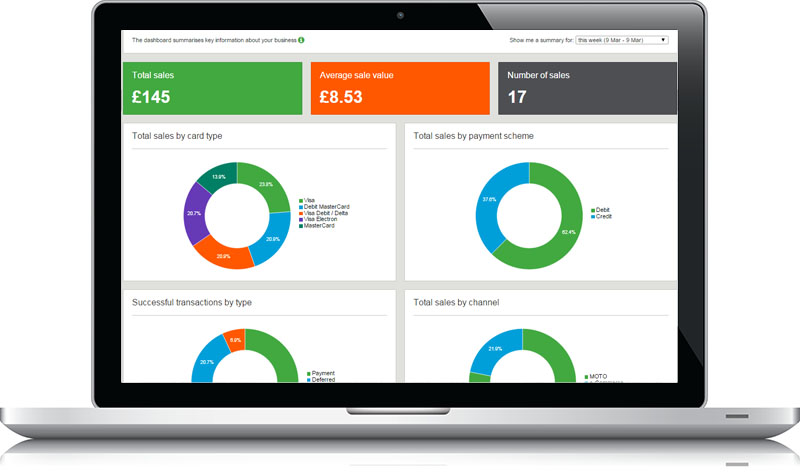 What they offer
Their flexible payment methods make them a popular choice for small, medium and large businesses, covering many industries. Being able to provide mobile and online payments is a big plus for any customer base, so if you're looking for a full payment solution, Opayo has got you covered. They not only support all payment methods but also accept 30 global currencies meaning you can grow your clientele without any barriers.
Need to customise your page to be cohesive with your brand and needs of the business? No problem, you're free to add and ditch what you want. Plus, you only have to wait two days to have access to your money.
Opayo fees
| | |
| --- | --- |
| Opayo Flex: | £32 per month - up to 350 transactions per month |
| Opayo Plus: | £45 per month - up to 350 transactions per month with 500 token payments |
| Opayo Bespoke: | £Bespoke - 3000+ transactions per month |
Opayo Pros
You only pay a flat monthly fee with no transaction charges.
Opayo keeps your books in check with an auto-invoicing function. This extra layer of protection keeps you safe and up to date.
It keeps you in the loop with a clear snapshot of your finances.
Allows you to take payments over the phone through its virtual terminal.
Opayo Cons
Costly add-ons can add up quickly, such as GDPR and pension module features.
You'll need to enquire about a bespoke quote if your business generates more than 3,000 transactions a month.
Not suitable for complete beginners as the system requires some technical know-how to set up correctly.
Is Opayo for me?
If your business needs an all-rounder, Opayo could be perfect for you. Dealing with daily accounts plus staff payroll and all the bits in between, it does help every aspect of the day to day running of your business.
So, the hard work has been done for you, now all you need to do is seek out which payment gateway provider is best suited to you and your business. We hope you've enjoyed reading this article 'Best online payment gateway for small business UK'. We have researched the market and provided a review as fairly as we could.
If you are looking for the best credit card machine for your small business, follow the link and we have a comprehensive list to help and guide you on which one could suit your business.