In this article, we look for the best credit card machine for small businesses in 2024 and offer our advice. Debit card transactions are now the most popular form of processing payment, overtaking cash payments. It tells us that there is a massive shift in society and how we pay for things. We're moving into an ever cashless way of life, and it's showing in the way consumers choose to pay for things.
Since the digital revolution, we want everything to work seamlessly from our phones. We're becoming less patient with the difficult task of visiting a cash machine and drawing cash out. Banks have also noticed this shift as hundreds of cash machines are closing, with consumers opting for the contactless approach. So, it's time to think of your business's future as cash leaves the high street for good - if you want to keep up, you're going to have to get yourself a credit card machine.
What is a credit card machine?
A (PDQ) credit card processing machine is also known as a merchant card reader or 'chip and pin', is an electronic device that allows businesses to process card payments. PDQ stands for 'process data quickly'. They can be your normal countertop ones, wireless and portable or handy little mobile machines. It can be tricky to know which one is best for you but read on to discover the ins and outs of each device.
So, where do you even begin? You set up shop, and now you have to decide which card machine is best for your business. With so many options out there, it really can feel like a minefield. Fear not, we've created a handy article to help you decide which one will meet all of your business needs. Let's start with the basics.
Why does my business need a credit card machine?
2021 saw a huge shift in the way consumers pay for products. Card transactions were key, with cash not accepted in many establishments due to Covid-19 restrictions. Contactless payments were the only option for bricks and mortar businesses.
Anyone who owns a business should have a credit card machine for processing payments, no matter how big or small. Consumers are less likely to carry cash on them, and when there's no option of a card machine, you could end up turning people away. It also makes them think twice about revisiting your business if they know they'll have to get money out beforehand. Plus, it gives the impression that you may not be legitimate if you only take cash payments.
It's a big bonus for a business to have a merchant credit card machine on site. It means transactions are faster, safer, and more importantly, it's impossible to give the wrong change. So no disgruntled shortchanged customers at the till. Many people think getting a card machine is a considerable expense, but that couldn't be further from the truth. You can purchase a mobile one from as little as £19 with no monthly fees – but we'll get onto that later.
Are there different types of credit card processing machines?
Yes, there are! Which means you have a few options to choose from.
1 Countertop Card Machines
When you think of a card machine, you're probably thinking of the traditional kind at a supermarket checkout, a countertop machine, the type that we've all become accustomed to. If your business is going from strength to strength and you're making multiple transactions a day, you're probably going to want to opt for one of these.
They're usually a little more hard-wearing and are made to be handled heavily over time, something you'll need if it's in the hands of a large number of people every day. Countertop terminals have user-friendly buttons, can work well in low light and usually have a built-in receipt printer, meaning your customer can get a receipt straight away without any hassle. We're slowly moving into a paperless society but the majority of people still like to have a physical receipt as evidence of their purchase, so this is a handy little feature to have.
Also known as PDQ machines, they connect to a payment provider network via a landline or internet connection. After the network has authorised the card, funds can be transferred to the merchant's account. We'll talk more about how you receive the funds a little further down.
Best Countertop Credit Card Machine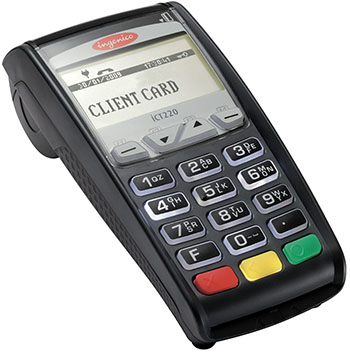 The iCT220 from Ingenico is an excellent countertop credit card machine on the market today.
It's an all-rounder and great for any business taking a large number of transactions. It accepts chip and pin plus smartphone payments and has a built-in receipt printer. It also boasts a multi-merchant capability meaning it's great for numerous self-employed workers sharing one terminal. It's incredibly user-friendly with a bright clear screen and finger-friendly buttons so anyone can enter their information with ease.
The important stuff:
Swipe function
Handy built-in receipt printer
Ethernet connection available
Light up keypad
Finger friendly buttons
PCI compliant
So, a countertop terminal is probably the most complicated of all the credit card machines. Firstly, the card machine is usually leased as part of your merchant account agreement (find out about merchant accounts below). You can then set up with a dedicated merchant bank like Worldpay or with a PSP (payment service provider) or an ISO (Independent Sales Organisation) to help you receive your money.
Pros and cons of a countertop credit card machine
The countertop machine is popular with businesses such as coffee shops or any retail store. This is usually due to its reliable hardwired connection meaning that it's unlikely to not be able to complete a transaction resulting in you having a happy and satisfied customer. And a satisfied customer becomes a loyal customer.
Countertop card machines are generally priced around £100 if you buy it outright, which is not a great deal when you think about the number of sales you'll be able to make with your new shiny machine.
Pros
Extremely reliable connection: meaning you'll rarely have to turn a sale away, if at all.
No need for charging: indicating the battery is always full, so you can still make transactions.
Good customer experience: Creates a seamless experience for the customer and helps you look like a reputable and professional business.
Cons
Upfront cost: You'll be paying from the outset, and with a merchant account comes transactions fees, something you'll have to consider early on.
2 Wireless/Portable Card Machines
Similar to the countertop machine, the wireless credit card machine delivers the same result, except.. you can be portable! You'd typically use one of these if you have to take your business out on the road to say, an event or stall. Or, where you'd need to take payment at the table in a restaurant for example. Once you're set up, you can choose to connect using GPRS, 3G, Wi-Fi or Bluetooth technology, making your transactions seamless. They're usually lightweight, shock resistant and can handle around 500 transactions per charge. A great option if you're out on the road a lot.
Best Portable Credit Card Machine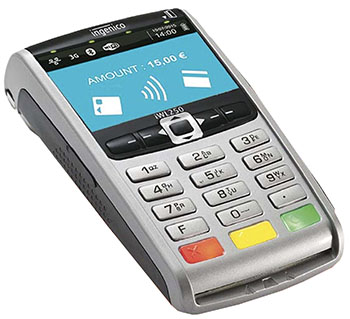 The iWL card machine from Ingenico is a super portable card machine out there today. Its lightweight terminal is great for whacking in your business bag and getting on the road to an event or being handled by a number of different people. There are a few ways that you can connect either by GPRS, 3G, Wi-Fi or Bluetooth, so you'll never have to worry about your connection being down and not being able to take payments.
It's also shock and water-resistant, meaning it's ideal for businesses who mainly work outdoors.
The important stuff:
Up to 650 transactions on a single charge
Accept smartphone payments
Swipe function
Water and shock-resistant
PCI compliant
The portable terminal works the same as the countertop machine in terms of securing your funds. You'll set up a merchant account, online payment gateway, and virtual terminal so you can take payments anywhere.
Pros and cons of a portable/wireless credit card machine
The top choice for merchants who need to move around while taking payments without relying on a sometimes patchy mobile network signal. Great for the hospitality industry when guests don't want to leave the table to pay their bill. Connect to a landline or wireless network and enjoy 200ft of uninterrupted transactions.
Pros
Ease of payment for customers: they don't even have to get up from their chair to pay their bill.
Reliable connection: Meaning you can take payments without the worry of your connection dropping.
Cons
Need to be charged up: If not appropriately charged, you could become victim to that dreaded dead battery notice in the middle of payment.
3Mobile Card Machines
If you're self-employed and maybe a one-man/woman band, you might want to opt for a mobile card machine. This type of machine is becoming increasingly popular with people who may only take below 20 transactions per day.
They're incredibly easy to set up, and you could be making transactions almost immediately. Plus, they're super user-friendly and convenient for customers who don't carry cash with them. Shop around a little, but you'll find that most of this type of machine won't have set up costs and no monthly fees!
All you have to do is pay for the machine itself. Then download the corresponding app, upload your details so they know where to send the money, and you're done!
They accept a wide range of credit and debit cards, plus they have a relatively long battery life. You can even send a receipt to your customer via email or text after the transaction.
The most purse-friendly out of the three, but you'll still have to pay a fee on each transaction made (the provider has to make their money back somewhere, right?) These are usually fairly minimal and generally range from 1% to 2.75% per sale, so keep this in mind when trying to calculate your profit margins.
Best Mobile Credit Card Machine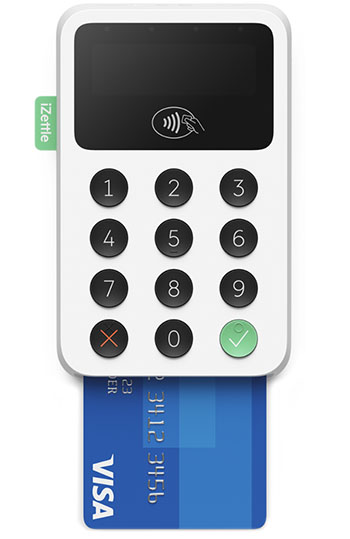 We've chosen the iZettle as the best mobile card machine on the market right now. It's easy to handle terminal makes transactions seamless. It was designed primarily for small businesses, so they didn't feel left behind. No hefty monthly fees or start-up costs either, all you have to do is pay for the handset, and you're off! It's incredibly cost-effective and helps you and your business look professional by allowing you to offer payment by card instead of customers scrambling around for money in their purse. Set up consists of downloading the iZettle App, filling in a few details, connecting your bank and voila! You're ready to take payments.
The important stuff:
Accepts a wide range of credit and debit cards
No monthly fee. Repeat: there are no monthly fees
Battery life — up to 8 hours
No set-up fees
Card reader costs £59
UK-based support
PCI compliant
Probably the easiest of the three as you don't have to set up a merchant account. Once you have the mobile card machine, you'll be prompted to set up an account with the corresponding app and add your bank details so they know where to send the money once the holding period is over. Depending on the card machine provider, you can usually pay a bit more to get access to the funds more quickly. In other cases, you'll be able to withdraw funds monthly. This is a popular option for self-employed people who have fewer transactions to make because of the ease and simplicity of it.
Pros and cons of a mobile credit card machine
A mobile credit card machine is an excellent choice for a self-employed business owner who makes a small number of transactions per week.
For businesses who previously thought taking card payments was out of reach, they've become a much needed financial accessory to make payments easily.
Gone are the days of customers having to nip out to get cash or scrambling around for the right change to give back to them. The mobile credit card machine has opened up a new way to take money for small businesses. Most terminals work through a pre-installed SIM card, but technology advancement comes an easier way to make payments. Modern card readers now connect to your phone through a downloaded app. Easy as pie.
Pros
Minimal hardware required: this means all you need is the card reader and a smartphone or tablet. Less equipment, less hassle.
No monthly fees: The majority of mobile card machine providers offer no monthly fees or very short term contracts, meaning you're not tied in if you come to realise that it's just not working for your business.
Cons
Unreliability: Sometimes, the connection can drop, meaning taking payment can become disrupted.
Less hardy: Dropping one could easily break it, so if it's likely to be handled quite a lot, keep this in mind.
Payments to your bank account aren't always immediate: In some cases, you can only withdraw funds once a month.
4 ways to accept card payments
1 An Epos system
An Epos system is an electronic point of sale system which corresponds directly to the credit card reader. Mostly, it's the till you see in shops that the assistant taps on, and your total magically appears on the credit card machine. It's convenient to have this when you know you'll not only be taking card payments but cash ones too.
There are many different types available, including modern cloud-based tablet solutions such as iPad POS systems, which are now becoming affordable for smaller businesses in the UK.
2 Online Payment Gateway
An online payment gateway is used to take payments online, such as an e-commerce retail store. It's a secure software that encrypts the customer's card details and dispatches them to the merchant bank for clearing. All this is achieved within a matter of seconds and helps you complete the transaction as quickly as possible.
3 Virtual terminal
If you're a business that needs to accept credit card payments over the phone or email without having the customers card physically in front of you, you'll need a virtual terminal.
More likely than not, you've probably been asked to recite 'the long number' and the security code over the phone before purchasing something. This is exactly what's happening when you do that.
This secures important payment details while the bank approves the transaction. You will manually enter the card details into the system if the customer isn't present. It's a great way to secure payment without needing the customer there.
4 Card machine
Once you're set up and ready to go, you get to do the fun stuff, actually choosing which credit card machine you'd like.
Not every card machine works for every business, so you'll have to do a little research here. You want something that will meet every need of your transactional needs. Different businesses have very different needs, so you need to consider how the machine needs to work for you. It's going to be a pretty big part of your business, making one thing less stressful by choosing the right machine.
Will I need a merchant account?
Yes, you'll need to set up a merchant account with a merchant bank. This is a credit account that allows you to take credit and debit card payments for your business. When a customer taps in their pin or uses the contactless function, the bank is alerted to check if they have sufficient funds to complete the sale. The money sits in your merchant account until the bank gives the customer the all clear and the transaction can be finalised. It's also the banks' safety net for any fraudulent activity, protecting them and you too.
What is PCI compliance?
With any card machine, you'll want to check that it's PCI compliant. This means, any company of any size intending to accept card payment to store, process and transmit cardholder data needs to host your data securely with a PCI compliant hosting provider.
Wherever you purchase your machine from, make sure you find out if the machine itself is PCI compliant. This should be pretty obvious as it's something they'd want to highlight without you having to search for it. If you do have to search high and low for it, it's probably not worth purchasing.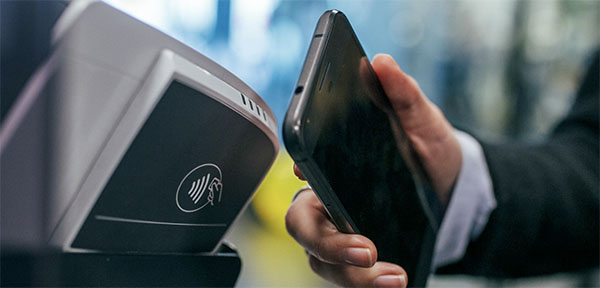 Don't forget contactless payments
For some people, contactless payments are a brand new thing, for others, they've never shopped without that function. Modern card machines will come with a contactless payment facility as standard. It's another way to make the customers paying experience that much quicker.
However, bear in mind that some providers will charge as much as 4p for processing contactless payments, whereas others won't charge at all. That's why it's important to get a few quotes and compare them, finding out which one will work best for your business.
In any case, having a card machine means you can digitally track sales. This not only makes it easier to see your incomings versus outgoings, but it makes it much more straightforward to create a precise picture of how your business is doing.
Integrating your digital records with your bookkeeping software means nothing slips through the net, and you can create an accurate forecast for next year. Having a card machine helps your business grow. Slate and chalk just don't cut it anymore. The digital age has pushed us forward, making it easier for customers to spend their money with us. Inevitably, if you don't upgrade now, your fear of being left behind could become your reality.
All in all, you'll probably find that you need to jump on the digital bandwagon at some point. Your customers are using cash less and less, and they want the ease of seamless transactions.
You want to find a card machine that will work for you and your business. It can feel like a big jump to introduce a new addition to your business, but by doing this you're allowing your business to grow. So, whether you're taking multiple transactions a day or maybe only a few, there's a card machine out there that's going to fit the bill. (Pun intended).
PayPal Here - Credit Card Machine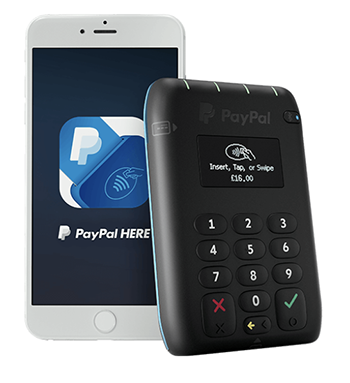 Please note: PayPal has now discontinued PayPal Here and has been replaced by Zettle.
The PayPal Here Credit Card Machine is a widely used card reader that can be perfect for small business use. It's straightforward to apply and set up and allows you to take contactless payments, including Apple Pay and Android devices.
The 'PayPal Here' Card Reader allowed you to take payment effortlessly and gets the money paid into your account in just a few seconds. The dedicated App allowed you to see the transactions and also had many other features to track your daily payments.
There's no monthly tariff, just a small fee per transaction – this is from 1% – 2.75%.
Business Funding via Credit Card Machines
Borrowing against your credit card takings is a great option for small businesses looking for funding to grow. If you own a merchant terminal and process over £2,500 a month in transactions on the card machine, you could be eligible for a merchant cash advance.
The perfect funding product for your business. Why? Well, unlike many other business loan products where you repay an agreed set amount each month, a cash advance works by repaying as and when you make a sale on your card machine. For example, you make a sale on your card terminal for £100. 10% / £10 is repaid back to the merchant lender as the transaction is made. So, if your sales are low, then your repayments are low – which reduces the stress on the business to make repayments. Another great perk of owning a credit card terminal machine.