Naming your restaurant is a highly creative and sometimes personal affair! You either hit an idea in the first five minutes of thinking about it, or you end up going around in circles for hours and hours getting nowhere! So, without having to employ an expensive marketing agency to help with coming up with a restaurant name, we have written this article 'Creative guide for Restaurant name ideas' which could help you find the perfect idea for your business.
What's in a good restaurant name?
The most important consideration of all is that 'you' have to wake up each day and love the name 'you've' chosen. It comes down to your choice at the end of the day. You may create lots of name ideas, some of them clever, witty, humorous, slick or contemporary, but the main thing is you've got to LOVE it. It's also worth noting at this stage that family or friends may influence you. This is great whilst your brainstorming. But, if you don't feel an idea is right, don't worry about upsetting anyone by not going with their idea. As I say, it's personal.
Coming up with the name, logo and branding is dependant on what type of restaurant it is. It could be British, Italian, Indian, French, Spanish, Mexican, Chinese or Japanese and each can have a similar creative thought process.
To help, I have compiled and listed out a creative guide for restaurant name ideas.
These are however examples, and you should do research before picking any one idea to make sure there is no conflict of interest – check that the identity and name are not trademarked under UK law. All significant considerations to get right from the start of course.
Therefore, without further ado let's look at how you can create clever and catchy restaurant name ideas! The first thing to do is to delve into culture, history and geography (sounds boring – we know). Well, not as a starting point. You need to research the background of the cuisine. The ethnic origins. Are there any untold stories or exciting names associated with the culture and provenance? Once you have this list together, you can start to think outside the box.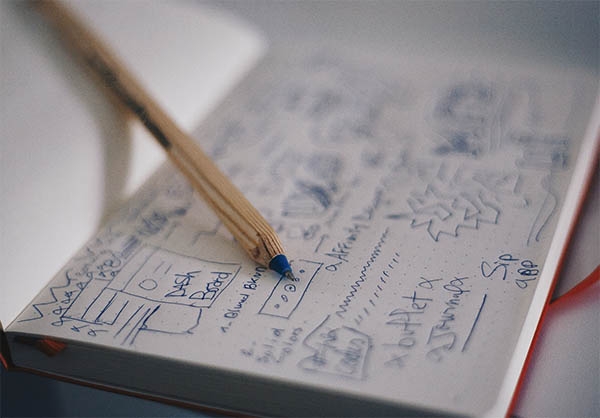 Secrets to finding the perfect restaurant name
If you struggle with ideas, don't just stare at a blank piece of paper. Keep jotting word associations down in every white space area on your pad. Write down all the negative and funny stuff too. It's surprising how a contrary idea has its polar opposite – and it's this positive idea which may be staring at you in the face all along.
Keep a pencil and pad close to you at all times throughout the process. Jot down the most random ideas, silly names and anything else that comes to mind. Go on the internet (like you are doing now) and search across the different social media platforms — Instagram, Pinterest, Facebook, Flickr etc.  Looking for Social Media Tips too? Check out our article on Facebook tips for your restaurant here.
What other ways are there to come up with excellent restaurant name ideas?
There are many ways and formulas that the professionals use -, especially in design and marketing agencies. Therefore, they have brainstorming sessions, and these methods are used when the going gets tough.