Naming your restaurant is a highly creative and sometimes personal affair! You either hit an idea in the first five minutes of thinking about it, or you end up going around in circles for hours and hours getting nowhere!
So, without having to employ an expensive marketing agency to help with coming up with a cool restaurant name, we have written this article 'Creative guide for Restaurant name ideas' which could help you find the best idea for your business.
What's in a good restaurant name?
The most important consideration of all is that 'you' have to wake up each day and love the name 'you've' chosen. It comes down to your choice at the end of the day. You may create lots of name ideas, some of them clever, witty, humorous, slick or contemporary, but the main thing is you've got to LOVE it.
It's also worth noting at this stage that family or friends may influence you. This is great whilst you're brainstorming. But, if you don't feel an idea is right, don't worry about upsetting anyone by not going with their idea. As I say, it's personal.
Coming up with the name, logo, and branding is dependant on what type of restaurant it is. It could be British, Italian, Indian, French, Spanish, Mexican, Chinese or Japanese, and each can have a similar creative thought process.
To help, I have compiled and listed out a creative guide for restaurant name ideas.
These are, however, examples, and you should do research before picking any one idea to make sure there is no conflict of interest – check that the identity and name are not trademarked under UK law. All significant considerations to get right from the start of course.
Therefore, without further ado, let's look at how you can create clever and catchy restaurant name ideas! The first thing to do is to delve into culture, history and geography (sounds boring – we know). Well, not as a starting point. You need to research the background of the cuisine.
The ethnic origins. Are there any untold stories or exciting names associated with the culture and provenance? Once you have this list together, you can start to think outside the box.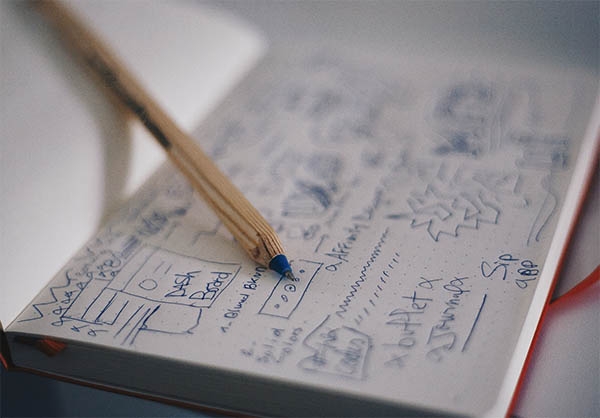 Secrets to finding the best restaurant name
If you struggle with ideas, don't just stare at a blank piece of paper. Keep jotting word associations down in every white space area on your pad. Write down all the negative and funny stuff too.
It's surprising how a contrary idea has its polar opposite – and it's this positive idea that may be staring at you in the face all along.
Keep a pencil and pad close to you at all times throughout the process. Jot down the most random ideas, silly names and anything else that comes to mind. Google the internet and search across the different social media platforms — Instagram, Pinterest, Facebook, Flickr etc.
Are you looking for Social Media Tips too? Check out our article on Facebook tips for your restaurant here.
What other ways are there to come up with excellent restaurant name ideas?
There are many ways and formulas that the professionals use -, especially in design and marketing agencies. Therefore, they have brainstorming sessions, and these methods are used when the going gets tough.
Using a restaurant name generator
You could also look for help through a restaurant name generator. Because, of course, there are many online name generator's out there, and yes, they may be helpful if you are struggling with ideas. But try not to jump into these straight away as they can influence you and cloud your better judgement.
How to name a restaurant:
Let's look at methods to create a unique restaurant name:
Try pairing words associated with modern times. Maybe recent films, shows, music or TV. Remember, some words have copyright issues, so do your homework first!
Let's take, for example, the classic fish and chip shop. What's the product? Fish and Chips. Let's think about a film, perhaps 'The Godfather', a slight alteration and hey presto you have 'The Cod Father'. Add a strap-line, and you can set the tone perfectly. The Codfather – 'Battering since 1895'. Do you get the idea?
Try combining the name of your area (town or city) with an ingredient – I live by Chester, UK. So, for example, 'Chilli Chesters' has a cool ring to it?
Use a Fitness word with a kitchen term – 'The Fit Cook'.
Use a well-known saying: For example, the term 'Let's talk about it', perhaps it would be perfect for a Mexican Restaurant name 'Taco Bout It!'. It helps to think of sayings, and then what words within the saying can be modified.
Use an adjective with a noun ingredient. 'The Hot Pickle' as an example.
Use a combination of the above ideas. 'The Red Hot Pickle's' as a close take on a famous band – you know the ones?
Then there's a contemporary option. Maybe your restaurant tailors towards a demographic who have more disposable income. You need to create the vibe in your name so that your target audience knows what to expect. Creatively using place names can work. For example, for a French Restaurant name idea, look at places in France, French artists, sculptors, poets and create combinations as above. For instance, 'Uzès' – a simple town in France that already sounds like an excellent French restaurant name.
Spanish Restaurant Name? Again the formula above is the best starting point but try it in Spanish. 'Dali Dali', repeating a Spanish name, sounds super contemporary and cool.
Good restaurant names that aren't taken
Coming up with a name for a restaurant can be hard, especially when you think of a great one and realise during a quick google search that the name has already been taken. Most importantly, It's good to check as you roll along with your ideas. Keep having a quick search to make sure there's nothing similar.
Considerations when choosing a name for your restaurant business:
1. Make sure the name reflects the type of clientele you are targeting.
2. Is the name too difficult to pronounce? If it is, the chances are it won't be memorable (see no.4)
3. Is it a tricky spelling?
4. Is it memorable? Very important for word of mouth, person to person marketing.
5. Stay away from Trademarks. Even if yours is different, you can still end up in trouble if there's a hint of resemblance. Search and check for Trademarks in the UK by using the government website here.
6. Check for social accounts and website domains. Your chosen name isn't already taken, and it's possibly showing content that you may not want to be associated with!
7. Ask the people around you. Ask people outside of your friends and family to comment. Sometimes close friends don't want to hurt your feelings.
8. Sleep on it, don't rush it.
20 Best Restaurant Name Ideas
Just for fun, here are 20 examples of some of the funniest and best restaurant name ideas we have seen:
Thai Tanic
The Cod Father
Frying Nemo
Soon Fatt (Chinese)
Lox Stock & Bagels
Jamaica Mi Krazy
Thai & Mighty
The Rockin' Rooster
A Salt & Battery
Lord of the Wings
Pastabilities
Thai Me Up
Wok This Way
Prawn Hub
Burgatory
New Cod On The Block
The Notorious P.I.G (BBQ)
Pizza D'Action
Juan in a Million Restaurant
The Frying Scotsman
Need Restaurant funding?
Do you need business funding for your restaurant? Here at MLA, we offer a fast and flexible business loan for restaurants from £3,000 up to £300,000 for any purpose. Talk to us or apply online today for your free quote.