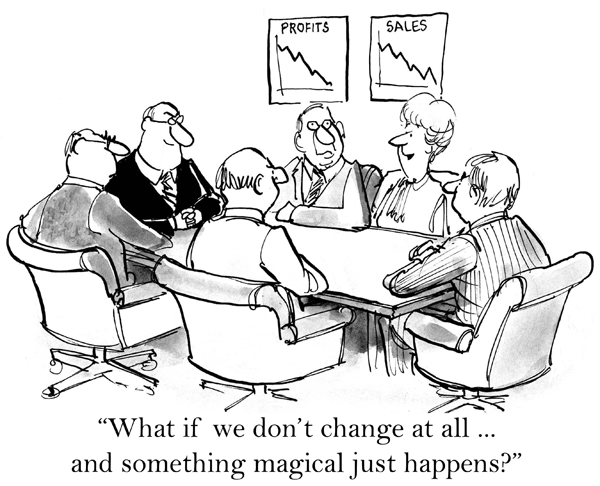 Your business – It's time to change your thinking
So you have your customers. You may have a percentage of customers who you know really well, they keep coming back and are a valued client.  It's so easy to be comfortable, you know that repeat business 'just happens' or your customers are the same as they were 2 or 3 years ago.  Don't be complacent – you NEED TO CHANGE, or at least explore CHANGE!!!
What I'm saying here is at the very least stay observant of your customers, talk to them personally, fact find and explore your marketing and business strategy on a regular basis.  By knowing that you have regular business coming in should not hold you back from exploring your market and looking for new opportunity.  Don't be scared to explore the principle of change in your marketplace – because it's HAPPENING!  Don't bury your head in the sand and expect the phone to ring or leads to keep coming in in the future – this is dangerous and has been in many cases a reason of business failure rather than business growth.
You may not want to grow your business but equally by exploring change you can PROTECT IT for the future!  It's your business – It's time to change your thinking
Force yourself to change your thinking –  to at least explore. Thinking about things differently can keep you and your business FRESH.  Because like every company that wants not only survive in the future but stay competitive.  Don't let anyone in your business get into a rut, you need flexible thinkers who are not possessive about "the way things are done around here"….
Everyone knows that not all change is good or even necessary.  But in a world that is constantly changing, it is to our advantage to learn how to adapt and enjoy something better.
Your business should simply be part of the enjoyment of life, if you are not enjoying your work or business then maybe you should ask yourself the question "is this really making me happy ?".  Lots of business start off as a hobby or the desire to change a service or product, to make a small contribution and make our world a better place.  To understand what makes you happy whether a good job, loving relationships, money, possessions, health or spiritual peace of mind is a good starting point!
Maybe it's good to step back once in a while and assess your business.  Are you keeping your mind, body and bottom line in good shape by adapting to change?   Talk to the people around you, explore the market, don't expect your customers to remain loyal 'just because'.  You need to explore opportunity, open your eyes to gaining a competitive advantage to your competitors.  So, put some time aside each week to consider the market space, explore new FUN ways to do business, make your business life enjoyable to you and freshen up your thinking today!

Keep up to date
Subscribe to get business news and tips direct to your inbox.
Incorrect email, please try again.