Today, UK businesses are spoilt for choice when looking for finance, that's great, but with so many options now available compared to the last decade it can be a mind field for business owners to find the right solution for their needs.
In this article, we take a look at comparing a new alternative finance solution called a Merchant Cash Advance and see how it differs against a traditional Bank Loan.
A merchant cash advance, also known as a business cash advance is a new alternative way to raise the finance you need for your business needs. Technically it is not a loan as the provider secures against your future credit card sales by taking a small percentage of your daily sales until the advance has been fully repaid.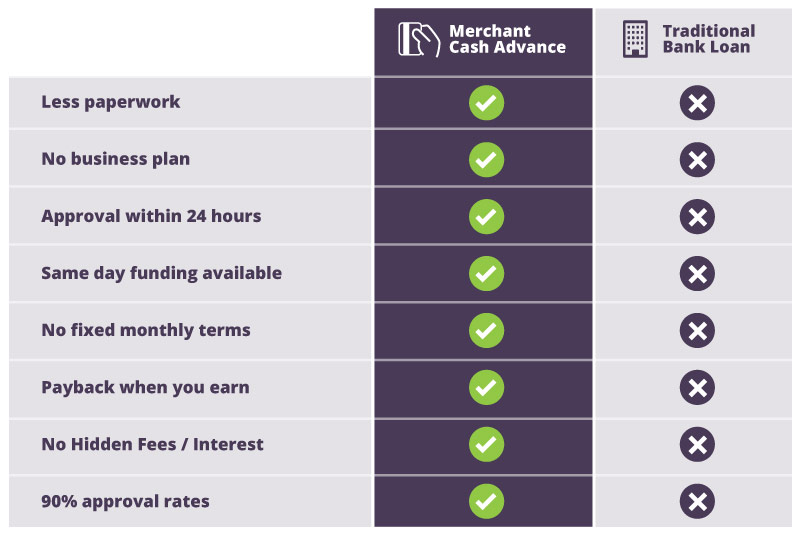 Merchant Cash Advance: The Pros
There are many aspects of this product that are unique compared to that of a traditional bank loan. The first being that a cash advance works with your cash flow.
Less Paperwork – With very little paperwork to deal with the process is much faster.
No Business Plan – You do not need to present a detailed business plan to obtain credit – saving time.
Approval Within 24 Hours – With less paperwork involved you can be approved very quickly.
Same Day Funding – Once approved, the money can be withdrawn the same day.
No Fixed Monthly Terms – It's flexible, so if you have a good month you pay back faster, but if you have a slower month in sales, you pay back less – there's no term or fixed monthly payments as it works alongside your business.
Payback When You Earn – You only repay when your customers pay you by card.
No Hidden Fees / Interest – As it's based on your card sales performance, there is no hidden costs or penalties for late payment – you see the clear cost upfront.
90% Approval Rates – With less red tape than that of traditional banks, approval of businesses is high.
Merchant Cash Advance: The Cons
There are, however some negative points to highlight for this type of funding such as a higher cost of borrowing.
Expensive – As it's a short term solution it can be a more expensive form of business finance.
Not Suitable For Every Business – The finance is only based against your customer card transactions. If your business doesn't accept card, you won't be able to obtain this finance.
How does it work?
With a traditional bank loans, you borrow a lump sum and pay it back monthly over an agreed term. The repayments are fixed and you must meet this whether your business generates sales or not.
Its different with a merchant cash advance, as the amount you borrow is based on your monthly card sale revenue – usually up to 150%. You repay on the borrowed amount as and when you make sales on your card machine otherwise known as a merchant terminal or PDQ machine.
Example
Let's say for example your business turns over £5000 per month on card sales. The funder could offer an advance of £5000 plus the payback amount of £1250.
You would start to pay off the £6250 as and when you make sales. You will also agree on a comfortable percentage of each card sale to start the repayment process. This could be typically 10% – 25% of sales. For example, you make a sale of £80 on your card terminal, £8 is paid off your advance and the balance of £72 is paid into your account.
To summarise
Compared with traditional bank loans, a merchant cash advance has one clear simple cost, it's significantly quicker in providing funding to your business, and repayments are only made when your business generates credit/debit card sales. It's not for all businesses though as it's linked to card payments. This solution is best suited for retail businesses, restaurants, pubs and hotels who have high and consistent monthly card sales.
The best idea is to compare the differences and benefits of one over the other. Why not get a merchant cash advance quote from MLA today and see how it can help your business.